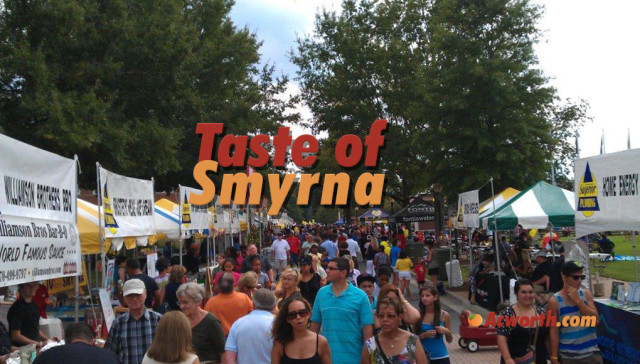 The annual Taste of Smyrna takes place on Saturday, September 17, 2016 on the beautiful Village Green in downtown Smyrna.  The event is a "Festival of Delectable" featuring samples from over 30 of your favorite Smyrna area restaurants.
Admission is free and samples may be purchased from one to four dollars. The event features over 30 restaurants including (in 2015) Atkins Park, Fuddruckers, Copeland's New Orleans, Zucca, Meehan's Public House, Jock's & Jill's, Wing Zone, Cold Stone Creamery, Hungry Howie's Pizza, Williamson Bros. BBQ, Bruster's Ice Cream, L'Thai West, Taste Jamaica, Oy! Restaurant, Bob's Lemonade, Deep Fried Brownies, Hawaiian Shaved Ice, Smallcakes Smyrna, Crafty Hog, Kenny's Great Pies, Mezza Luna Pasta & Seafood, Barbecue Street, Siracusa's Pizza, Taco Cantina, and more.
The event also features acoustic music from Scott Thompson who will be entertaining patrons from 11 an to 3 pm adjacent to the Veteran's Memorial. The evening entertainment features classic rock from The Unusual Suspects in concert from 7 pm to 9 pm.
In addition to the great food and music, there will be a Kids Zone with interactive inflatables including the popular 33 foot shark slide, the Euro bungee quad jump, a 24 foot rock wall, a 120 foot roller coaster obstacle course, and much more. For the adults there will be a beer garden as well as wine tasting.
Date:
Saturday, September 17, 2016
Hours:
11 am to 8 pm
Admission:
Free
Address:
On the Beautiful Village Green
Smyrna, GA 30080
For more information, please call (770) 423-1330.
For more information, please contact Bill Watson or Peter Jezerinac at JRM Management Services, Inc. at 770-423-1330 or pjezerinac@jrmmanagement.com.